Better involvement of and collaboration with others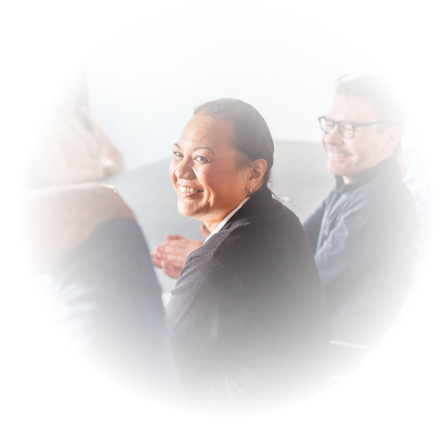 12.1 The opportunity
We want to be a trusted, respected part of the health and disability system. Leading by example, we can help build greater alignment across the system for all aspects of medicines and hospital medical devices, including building stronger relationships with a range of stakeholders who are central to our work. In doing this, we will also give effect to the Health Sector Principles of the Pae Ora Act and the Health Quality and Safety Commission's Code of Consumer and Whānau Engagement. As noted in the last section, working in partnership with Māori is also a central and critical part of our engagement ahead.
12.2 Titiro whakamua – the path ahead
Collaboration will underpin success in all Pharmac's strategic priorities. Our future work will:
build and mature our engagement approach
promote and support collective action
incorporate more diverse voices in our work
provide channels and content that meet people's needs.
12.2.1 Build and mature our engagement approach
We need to improve how we involve others in our work – but we also need to make careful choices about priorities for engagement. Our engagement model needs to be both best practice, including to reflect Te Arawhiti's guidelines for engaging with Māori, and be sustainable.
While it is essential we provide open opportunities for everyone to influence our work, and inform all New Zealanders about our work, our engagement efforts must importantly focus on health professionals and agencies directly involved in implementing our decisions. Health professionals are the people who give most New Zealanders their information about medicines and hospital medical devices.
12.2.2 Promote and support a collective action
The health and disability system needs a collaborative approach to deliver positive change for New Zealanders. No single part of the system can achieve Pae Ora alone. We have already seen the benefits of collaboration, with the COVID-19 response and the safer prescribing and dispensing joint project.
Achieving results collectively is resource intensive, so we intend to play to our strengths and focus on three key workstreams:
advancing management of hospital medical devices with Te Whatu Ora, Medsafe, and other key agencies and stakeholders
supporting early success of the cross-agency governance group for the immunisation system
working with the system to make better use of medicines that are already funded.
12.2.3 Strengthen diverse voices in our work
We need to centre the voices of the people that the health and disability system serves. We must reach out to those who are most poorly served, such as Māori, Pacific peoples, and disabled communities, especially where these communities intersect.
To meet Pae Ora principles, we must embed the Health Quality and Safety Commission's Code of Consumer and Whānau Engagement into our work.
Contributing to this change and our wider engagement efforts, we want to redesign our consultation process. It needs to be more inclusive, proactive and seek earlier consumer input, including to hear more about lived experience. For all people involved in our work, it is also important to recognise that medicines are not always funded, or funded within the time people would ideally like, as there are always more medicines that could be funded than money available.
12.2.4 Provide channels and content that meet people's needs
Pharmac's work impacts most New Zealanders, but not all in the same way. Targeted and timely engagement, in ways that work well for different groups, is essential to meaningful communication.
Central to achieving our engagement goals will be a channel strategy. This supports getting the right communication, at the right time, to the right people.
We want to provide accessible information that supports everyone to understand Pharmac's role, work, and decisions. We will continue to build our relationships with specific agencies to better tailor our communications. For example, Matui, who deliver the He Ako Hiringa resource for health care professionals, and Health Navigator, which is a trusted source of health information for many New Zealanders, with much greater reach than Pharmac.
12.3 Getting started on our path – our 2022/23 commitments
For 2022/23, our specific commitments to move us forward on this priority are:
25. participate in the cross-agency governance group for the immunisation system, to support better immunisation outcomes through the alignment and connection of different roles
26. identify the best ways to ensure the perspectives and experiences of disabled people are included in our work, including through discussion with Whaikaha – Ministry of Disabled People
27. make consumer appointments to PTAC and some specialist advisory committees
28. work with Health Quality and Safety Commission to identify how best to improve opportunities for consumers to input into our work, including to understand lived experience of people living with diseases
29. explore a formal partnership with Te Aho o Te Kahu – Cancer Control Agency
30. support and contribute to the development of a rare disorders strategy by Manatū Hauora.