Managing medicine supply
Pharmac's unique approach to medicine supply means Aotearoa is well protected against shortages.
Supply agreements
Pharmac does not buy or sell medicines. We contract suppliers to supply medicines and related products to Aotearoa New Zealand.
Our contracts require suppliers to make sure that there is enough product in the country to supply the market.
Our standard terms and conditions [PDF, 235 KB]
If it looks like there will be an issue, it's usually up to the supplier to source and import replacement products.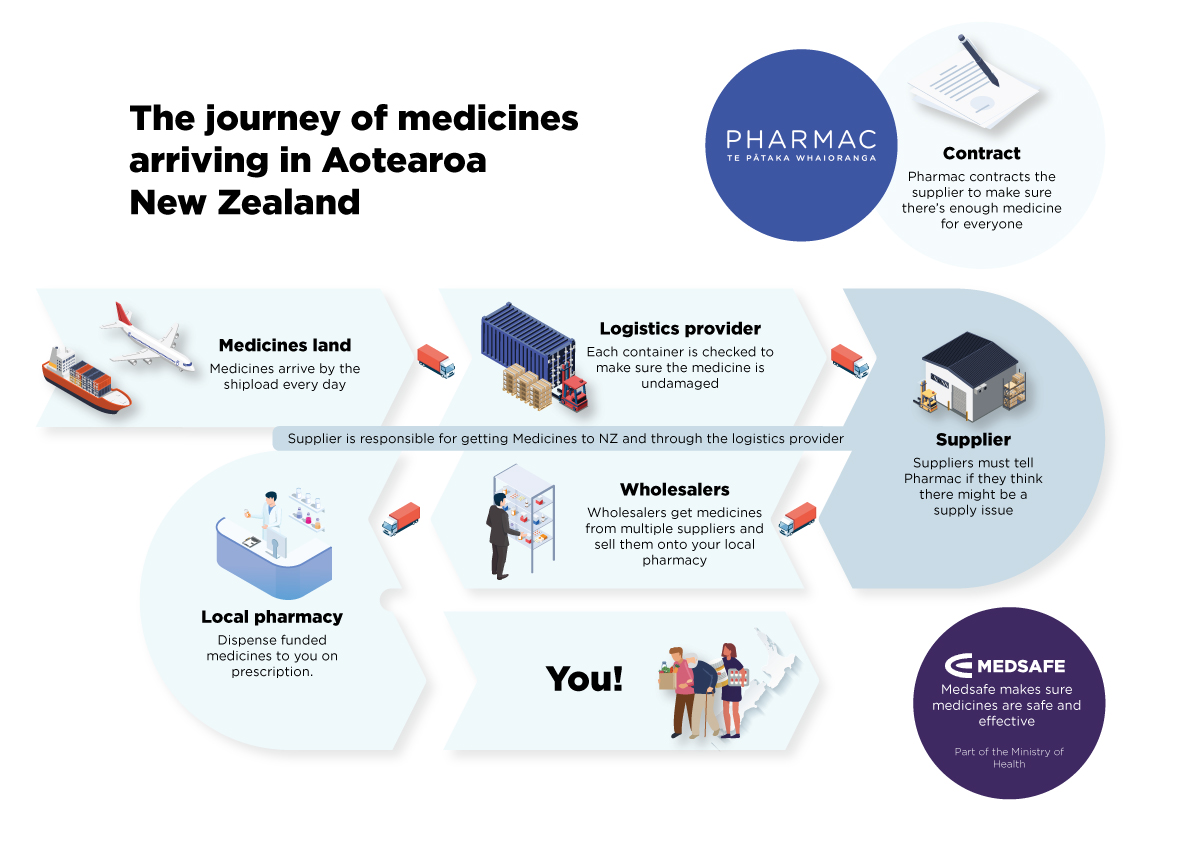 A pandemic, a canal blockage and a war
The last few years have stress-tested medicine supply in Aotearoa. Our supply chain has proven to be resilient in the face of worldwide supply challenges.
We have about 3,000 different funded medicines listed. Most of these are in stock most of the time.
Supply issues can come up for many reasons. They are often at a global level and include manufacturing delays and logistics challenges.
Medicine suppliers work hard to ensure supplies are available. Pharmac works with these suppliers to manage any issues.
How many supply issues are there?
Since the COVID-19 pandemic began, we have experienced a few more issues. However, only a small proportion of them have affected people taking medicine.
A supplier must tell Pharmac well in advance if there is likely to be a supply issue.
At any one time there might be 20 or 30 supply issues on our website – affecting about 1% of all funded medicines. We are also keeping an eye on potential issues and working with suppliers to make sure they don't become a problem.
In 2021, there were 219 new supply issues, that was up slightly on 2020 – which had 203 new issues. The affects of the pandemic on the supply chain continue to be felt.
What happens when there is a supply issue?
Suppliers are expected to let Pharmac know if there's going to be a problem. We do our best to let affected people know ahead of time.
Usually, there will be no impact on you
Most of the time, people taking medicines can still get the medicines they need. There's usually enough medicine in the supply chain to ensure no-one goes without.
There are a number of ways that suppliers ensure patients are not affected, including:
manually allocating stock (releasing limited quantities)
air freighting extra stock into Aotearoa New Zealand
sourcing a different brand to fill the gap.
When consumers are affected
Pharmac has options to consider when a supply issue looks like it might reach consumers. Sometimes, we'll change how much medicine people can pick up at one time.
If you can normally collect 3 months' supply, you might only be able to get 1 month for a while. This is an option we use for short-term supply issues to ensure everyone can access at least some of their medicine.
If there's going to be a longer term outage, we may list a different brand of the same medicine. It is the responsibility of the supplier to bring the alternative brand into New Zealand and cover any price difference.
Issues across the supply chain
With the spread of COVID-19 in the community, many services which support the supply chain have been affected by staffing issues. For example, courier services and ferry sailings.
These logistics challenges can affect the supply of medicines to local pharmacies. So, while some people might experience a local problem with stock getting to them, there may not be a nationwide supply issue for a medicine.
These logistics issues are bigger than medicine supply.
Stay up to date
We maintain web content about current and past supply issues, brand changes and discontinuations. This information is updated regularly.
Who to contact
If you have a question about a specific medicine, talk to your pharmacy in the first instance.
If you are a pharmacy, check with other wholesalers.
If there's still an issue, email enquiry@pharmac.govt.nz