Our place in the health system
PHARMAC's role within the New Zealand health system is to make decisions on which medicines and medical devices are funded in order to get the best health outcomes from within the available funding. 
Medicines New Zealand strategy
Medicines New Zealand is the Government's strategy for the medicines system. It defines three main outcomes for the medicine system:
Access: New Zealanders have access to the medicines they need, including equity of access to medicines
Optimal use: medicines are used to their best effect
Quality: medicines that are safe and effective.
PHARMAC's work focuses on access and optimal use of medicines. Quality is primarily the role of other organisations, in particular Medsafe.
Medicines New Zealand provides an overall framework for PHARMAC's operations. The strategy, published by the Ministry of Health in 2007, aims to inform decision making over the long term and to deliver a world-class medicines system for New Zealanders.
An action plan, Implementing Medicines New Zealand 2015 to 2020 accompanies the strategy and has been updated three times. The action plan sets out the changes required to deliver on Medicines New Zealand.
Our relationships and accountabilities
We interact with a wide range of stakeholders in our work.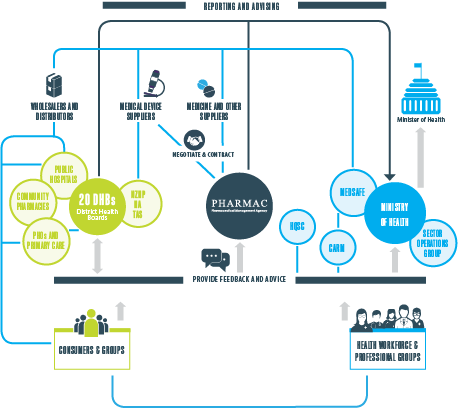 Minister of Health
The PHARMAC Board reports directly to the Minister of Health, so we meet with the Minister and provide regular reports and briefings. The Minister is ultimately responsible for PHARMAC's performance and, among other things, appointing the PHARMAC Board and setting expectations of PHARMAC.
Parliament and MPs
As a Crown entity we are accountable through the Minister to Parliament for our actions and must assist the Minister to respond to Parliamentary Questions (questions asked about our operations by Members of Parliament). Our performance is also scrutinised by Parliament's Health Select Committee. PHARMAC also assists MPs with queries from their local constituents.
District Health Boards (DHBs)
DHBs hold the funding for most publicly funded health services, including the Combined Pharmaceutical Budget (CPB) and hospital medical devices.
Our Memorandum of Understanding with the DHBs provides a sound basis for working together over time.
Ministry of Health
We work closely with the Ministry of Health, which acts on behalf of the Minister, to monitor PHARMAC's performance.
PHARMAC participates in the Health Sector Forum, established by the Ministry of Health to build understanding of health system priorities amongst health agencies and provide leadership to the sector in key areas.
We engage regularly with the Ministry on a range of issues including policy development and we have close working relationships with several of the Ministry's business units including Sector Operations Group and Medsafe.
Sector Operations Group
Sector Operations Group is the Ministry's claims processing unit, responsible for paying pharmacists for subsidised medicines on behalf of DHBs. It also processes Special Authority applications for medicines with subsidy access criteria. More information about Special Authorities is available from our Targeting Medicines Information Sheet. Sector Operations Group can be contacted via the Ministry's website: www.health.govt.nz(external link)
Medsafe
Medsafe decides which pharmaceuticals are safe and effective for New Zealanders to use and that they have undergone quality manufacturing processes (often called 'medicines regulation'). We usually consider a medicine or device for subsidy only after it has been approved by Medsafe (but there can be good reasons for departing from usual practice). Medsafe's web address is www.medsafe.govt.nz(external link)
New Zealand Health Partnerships Ltd
NZ Health Partnerships Ltd is a multi-parent Crown subsidiary that is led, supported and owned by New Zealand's 20 District Health Boards (DHBs). Established and operated as a co-operative undertaking, New Zealand Health Partnerships' purpose is to enable DHBs to collectively maximise shared services opportunities for the national good. New Zealand Health Partnerships web address is www.nzhealthpartnerships.co.nz(external link)
CARM
The Centre for Adverse Reactions Monitoring (CARM) in Dunedin is New Zealand's national monitoring centre for adverse reactions. It collects and evaluates reports of adverse reactions to medicines, vaccines, herbal products and dietary supplements from health professionals in New Zealand, and provides reports to Medsafe. CARM's web address is http://carm.otago.ac.nz(external link), and is part of the NZ Pharmacovigilance Centre website.
Clinicians and other prescribers
Prescribers, including general practitioners, specialists, and nurses are the health professionals who put the Pharmaceutical Schedule into practice, referring to it regularly to determine which subsidised medicines are available for their patients.
Pharmacists
In the community, pharmacists dispense prescriptions and advise patients on how and when to use the prescribed medicine. In the hospital, pharmacists play a vital role in ensuring the funded treatments are available as prescribed. As with prescribers, we rely on feedback from pharmacists on the practicality of Schedule changes.
Health professional groups
Professional associations for doctors, pharmacists, nurses and other health professionals such as clinical engineers, provide an important perspective on medicine funding issues and on our approach to hospital medical devices management. We regularly meet with such groups and seek their input through our consultation processes. We also work alongside some of these professional organisations in developing activities to manage changes in medicines, improve access and encourage responsible use of pharmaceuticals.
Consumer and patient groups
The decisions PHARMAC makes impact on virtually all New Zealanders, so it is important that the impact of those decisions on patients and consumers is well thought-through. We are in regular contact with patient and consumer groups and welcome feedback on medicine funding, our devices work, or other issues. To make sure we are asking the right questions of the right people, we take advice from our Consumer Advisory Committee on our engagement plans and practices to ensure we get appropriate consumer input to our operations.
Pharmaceutical companies
We rely on pharmaceutical companies to provide medicines for New Zealanders. In most cases, when we fund a medicine we agree on a supply contract with the company to ensure they continue to supply the contracted medicines.
Pharmaceutical companies are also required to provide information on how a medicine or medical device works, its interactions and side effects, as well as all the information we need to assess the medicine for funding using the Factors for Consideration. This information is available through Medsafe.
How our medical devices work fits
Our scope has been expanded to include hospital medical devices and PHARMAC will eventually be required to manage spending within a fixed budget. We are preparing for this by building a list of medical devices for DHBs to use, including things like cotton swabs, orthopaedic implants and dialysis machines. We are also negotiating contracts for terms like price and supply continuity to ensure consistency across DHBs.
As our role in hospital medical devices grows, we will apply many of the same principles we use for our medicines work however, as medical devices are not the same as medicines, we are also working out where we need to do things differently. This will include seeking high-quality advice from a range of sources to help us make well-informed decisions. This would include clinical, technical and operational advice, as well as consumer advice where appropriate.