Four Māori pharmacy students receive prestigious scholarships
Kia hiwa rā kia hiwa rā. Kia hiwa rā ki tēnei tuku. Kia hiwa rā ki tēnā tuku. Kia tū, kia oho, kia mataara!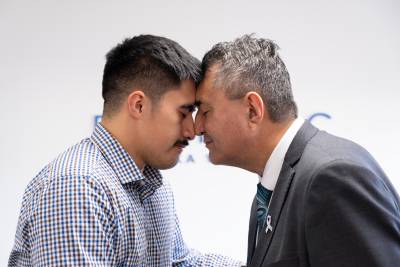 Four pharmacy students have today been awarded the Hiwinui Heke Māori Pharmacy Student Scholarship 2020, each receiving the prestige of joining the Hiwinui Heke scholarship alumni. The scholarship supports Māori pharmacy students studying toward their Bachelor of Pharmacy degree and promotes pharmacy as a career path for Māori.
The Hiwinui Heke Scholarships have been awarded annually since 2008 by Te Pātaka Whaioranga PHARMAC and Ngā Kaitiaki o Te Puna Rongoā o Aotearoa, the Māori Pharmacists' Association. The current President of Ngā Kaitiaki o Te Puna Rongoā o Aotearoa, Kevin Pewhairangi, one of the first Hiwinui Heke scholarship recipients, along with Tess James and Caroline Blucher..
PHARMAC's Chief Advisor Māori, Trevor Simpson (Tuhoe, Ngāti Awa), says that the four scholars embody the spirit of PHARMAC's core values – tūhono (connect), wānanga (learn together), and kaitiakitanga (preserve, protect, and shelter).
"Our values express what we aspire to be, and the mana of these scholars truly demonstrates them," says Trevor. "They promote te reo Māori and te ao Māori, and their commitment to mentoring and study is something for all to be impressed by.
"Te Pātaka Whaioranga wants to support whānau Māori to achieve best health and wellbeing through access to, and optimal use of, medicines and medical devices. We are proud to continue to support enabling Māori who have chosen to pursue a career in pharmacy through this scholarship."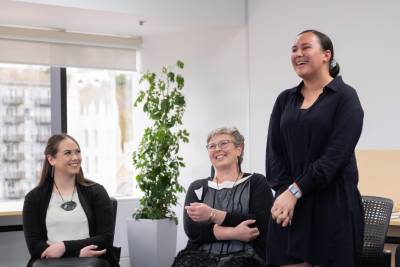 Each winner will receive $2500 from the scholarship, named in honour of Hiwinui Heke MPS (1930–2014). Following his qualification as a pharmacist, Matua Hiwinui was one of the first Māori to become a member of the Pharmaceutical Society of New Zealand. Whānau of Matua Hiwinui were present at the awards ceremony.
The recipients for 2020 are:
Tiare Manu, Ngāti Wai – University of Auckland
Jenna Paterson, Ngāti Raukawa – University of Otago
McKinley Vollebregt, Ngāti Raukawa – University of Otago
Te Awanui Waaka, Ngāti Whakaue – University of Otago
"Kāre i ārikarika ngā mihi ki ngā kaiwhiwhi o te karahipi Hiwinui Heke 2020, congratulations to our 2020 Hiwinui Heke Scholarship recipients," concludes Trevor.