COVID-19 vaccines
COVID-19 vaccine is now being rolled out in New Zealand. The government has secured enough vaccine for every New Zealander.
PHARMAC's role
PHARMAC was part of the all-of-government COVID-19 Vaccine Strategy.
As part of the Vaccine Strategy's Taskforce, we used our medicines and vaccines procurement and logistics experience to support the vaccines negotiation team.
The numbers you need to know
4 different vaccines secured
10 million doses of the Pfizer/BioNTech (enough for 5 million people)
5 million doses from Janssen (enough for 5 million people)
7.6 million doses from the University of Oxford/AstraZeneca (enough for 3.8 million people)
10.72 million doses from Novavax. (enough for 5.36 million people)
The COVID-19 Vaccine Strategy At A Glance
The COVID-19 Vaccine Strategy
The COVID-19 Vaccine Strategy (the Strategy) seeks to ensure New Zealand's access to safe and effective vaccines, in order to implement our preferred immunisation solution at the earliest possible time.
Our achievements include:
negotiating four independent purchasing agreements with pharmaceutical companies Pfizer/BioNTech, Janssen, the University of Oxford/AstraZeneca and Novavax.
joining and supporting the COVAX Facility, which seeks to distribute vaccines across the globe.
establishing the Vaccine Alliance Aotearoa New Zealand – Ohu Kaupare Huaketo to support connecting our scientific expertise to global research efforts.
investing in developing New Zealand's capability to manufacture COVID-19 vaccines, should it be necessary.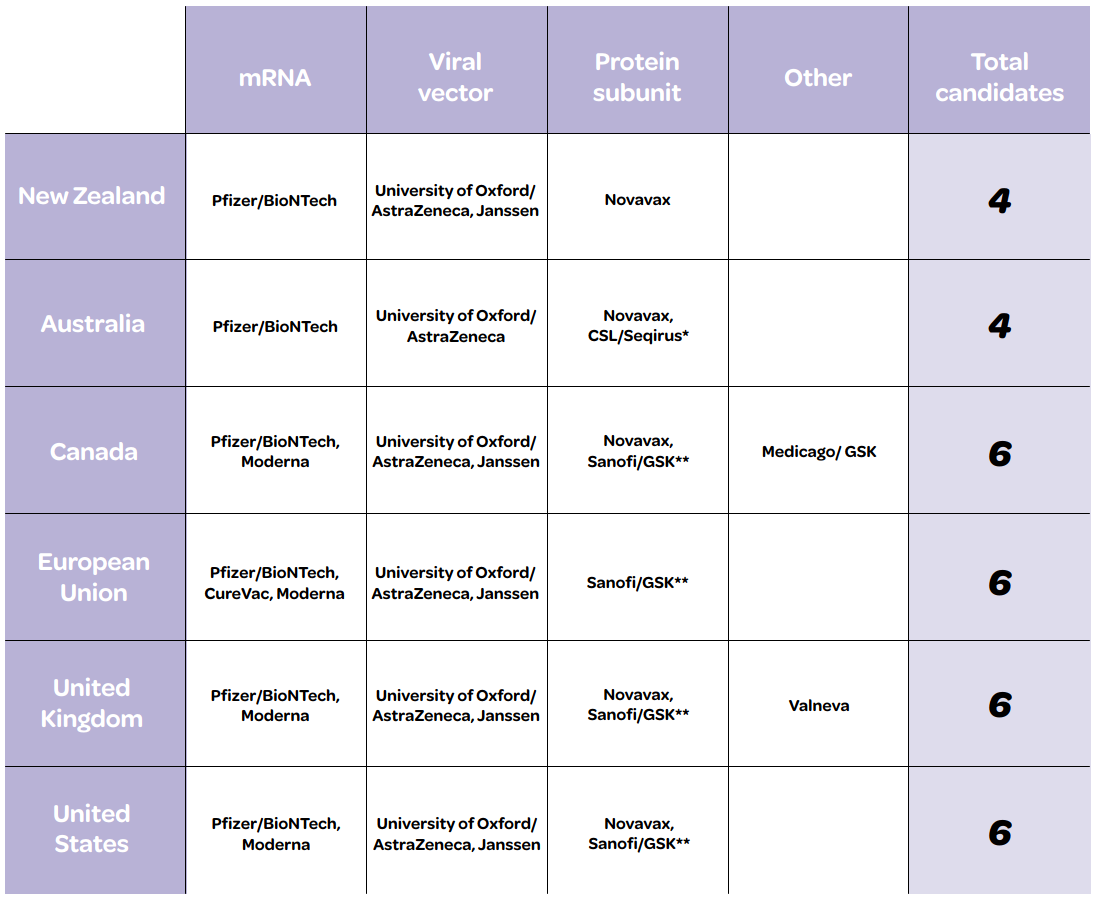 Vaccine Purchasing
A key principle of the Strategy was to ensure timely access to vaccines as they are developed. To achieve this, we pursued advance purchase agreements (APAs) while development was ongoing. This ensured no delay in supply to New Zealand.
A portfolio of several APAs increased the likelihood that we'd have vaccines suitable for use in New Zealand. It meant we weren't putting all of our eggs in the same basket.
All of our purchase decisions were informed by independent scientific and commercial experts, including some of New Zealand's top immunologists and clinicians on our Science and Clinical Review Panel.
The four candidates we secured were:
750,000 courses from Pfizer/BioNTech
5 million courses from Janssen
3.8 million courses from the University of Oxford/AstraZeneca
5.36 million courses from Novavax.
These purchases are complementary – they each use different vaccine technologies and have different strengths and weaknesses.
The Ministry of Health is now rolling out its vaccination programme.
Read more about when and how you can get the vaccine on the Ministry of Health's website(external link)
While we're confident our four agreements put us in a really good position, we're not ruling out other purchases if required. We will continue to assess promising options for New Zealand as they arise.