One Heart Many Lives
Nau mai, haere mai... Talofa... Malo e lelei... Kia orana...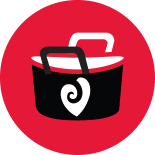 The One Heart Many Lives kaupapa has been passed back to whānau ora collectives, health providers and communities to lead.
You're welcome to use these resources from the One Heart Many Lives campaign for your local campaigns to encourage Māori and Pacific Peoples' men to 'get their heart checked.'
One Heart Many Lives kaupapa and whakapapa
Kaupapa
'Māori and Pacific Peoples' men living into their 80s and 90s free of heart disease.'
The kaupapa of One Heart Many Lives initiative is to increase the survival rate of Māori and Pacific Peoples' men. These men die in their 30s, 40s and 50s, leaving behind young families and affecting whole communities. When people are affected by heart disease this has wide reaching consequences for whānau and friends. One heart can affect many lives.
Whakapapa
One Heart Many Lives was first run as a pilot in Gisborne and Porirua, called 'Take Control of your Cholesterol'.
PHARMAC commissioned an advertising company to develop the brand and an advertising campaign to promote it. The campaign resulted in an increase in awareness of heart disease in these regions and an increase in prescribing of statin medicines.
The brand, logo and social marketing elements were developed further with launches in Northland and Hawkes Bay. The One Heart Many Lives brand expanded into the community in 2008 as free community heart checks for tāne Māori and Pacific Island men. The heart checks included training of local primary care nurses to conduct community heart checks, working closely with hauora organisations and the Heart Foundation.
The community heart checks were very successful and the One Heart Many Lives brand became synonomous with heart health and 'Get your heart checked bro.' Sporting and community events where free heart checks were offered included Ironmaori, Te Matatini, Koroneihana and other community festivals such as Creekfest, Te Rā o te Raukura and Otara market.
This model continues within Whānau Ora collective activities, led by their hauora teams skilled in offering heart checks and following up the whānau if the results aren't good.
The One Heart Many Lives kete gives you some excellent resources and ideas to use in your community.
He kokonga whare e kitea, he kokonga ngākau e kore e kitea.

"A corner of a house may be seen and examined; not so the corners of the heart."
Design elements
One Heart Many Lives brand guidelines [PDF, 1.2 MB]
Listen to Bill Kaua, PHARMAC's kaumatua, talking about the symbolism of the tohu and koru. [MP3, 4 MB]
(Background music is from the album Te Kū Te Whē by Hirini Melbourne and Richard Nunns, courtesy of Rattle Records(external link).)
Tohu
The One Heart Many Lives tohu (symbol) expresses the intent of this programme.
The overall shape of the tohu is a symbolic comparison to the circulation of blood through the veins and the arteries around the tinana (body). In this instance it is used as a metaphor for a healthy heart, with good flow in the direction it must go.
The tohu has been developed specifically for the One Heart Many Lives programme, by Len Hetet (Ngāti Tuwharetoa, Ngāti Maniapoto, Ngāti Apa and Te Āti Awa). It has relevance to all the workforce development and community initiatives, campaigns and kōrero in a way to inspire how the heart does touch many lives.
Red koru
The koru, or red heart shaped as a koru, represents the ngākau emphasizing sentiment, vitality and "centeredness", however, it is at te pūtahi o te manawa (the aorta) that the tohu gets its bearing and prominence.
Against a black backdrop representing the uncertain nature of life, the focus on cardiovascular disease describes this as a silent killer, particularly amongst tāne Māori.
At the centre is an expression of the mauri (life force): of warmth and empathy, depicting knowledge, nurturing and learning.
The inclusive nature of the red koru represents the direction of any journey. It curves upwards, reaching for the stars and navigating the path. The bottom points of the curves refer to the beginning and a possible starting point.
Videos
Six Pack Pocket Plan
Auahi kore - Smoking is like putting diesel into a petrol car.
It will work for a while but every time you use it, you get a lesser performance from your vehicle - your body. Smoking is the leading cause of cancer and also contributes to heart attacks.


Diabetes is largely a silent disease, much like rust in a car.
It is not until it is widespread that it becomes obvious. The best thing to do is to have a mechanic (the doctor/nurse) have a close look.
The best way to manage diabetes is to avoid developing it. If you have diabetes then it is important to reduce the effect of having it.


Being active - Just like your car it is important to have your body getting out and about regularly.
If not used, it will lose its performance and will start to run poorly. Get the whānau to join in and get out for a spin around the park, the neigbourhood, beach, just about anywhere.


High cholesterol in your blood is like having dirty fuel in your car.
It causes blockages in the fuel pipes which in the body is the blood vessels around the heart and brain. These blockages cause heart attacks and strokes, therefore it is important to know what the level of your cholesterol is. To find this out you see your doctor/nurse and ask for a heart Warrant of Fitness.


Blood pressure - Your heart is like the engine of a car and your BP is like the revs.
If you have high BP this means that your heart is revving too high for too long. Having high BP is like driving your car around in 1st gear everywhere you go. If you have a high BP you need to get it checked regularly by a doctor/nurse.
Your heart, brain and kidneys are under too much strain if your BP remains high and you could have a heart attack, stroke or kidney failure.


Nutrition - The quality of the fuel we put in our vehicles will affect its performance.
You would not put cheap quality petrol in your car. Just like a car, if we put poor quality fuel in our body over time it will start to run poorly. You need to think is the diet you have good brain fuel, good heart fuel or good kidney fuel.


To order the 6-pack pocket plan pamphlet, email tewhaioranga@pharmac.govt.nz
Out with gout
Uric acid arthritis – gout – is a problem for many Māori and Pacific men.
Out with gout – booklet to print [PDF, 856 KB]
Out with gout – order booklets from www.pharmaconline.co.nz(external link) - go to "Public Users" and then "One Heart Many Lives".
Kua tawhiti ki tō tatou haerenga mai, kia kore e haere tonu
He tino nui rawa ōu mahi, kia kore e mahi nui tonu

You have come too far, not to go further
You have done too much, not to do more

Sir James Henare
Facebook page
One Heart Many Lives on Facebook(external link) - the page isn't being updated, but there's information there from the campaign.
Contact us
We're keen to hear your questions, queries about using the design elements, and ideas about what you plan to do as One Heart Many Lives activities.
Contact us by emailing tewhaioranga@pharmac.govt.nz