One Heart Many Lives
One Heart Many Lives was a Te Pātaka Whaioranga Pharmac programme to encourage Māori and Pacific men to get their hearts tested.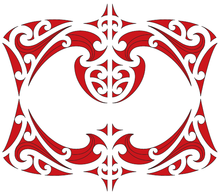 The programme's kaupapa set out to inspire Māori and Pacific men to:
get their hearts checked
understand heart disease
pass the message on to their brothers, cousins, sons, friends and whānau.
The One Heart Many Lives programme showed that if testing was available in the community, in a culturally safe and positive environment people would take it up
How it worked
Local primary care nurses were trained to do community heart checks. PHARMAC worked closely with local hauora organisations, the Heart Foundation and their local nurses and whānau.
Free heart checks were offered at community events. These included IronMāori, Te Matatini, Koroneihana and other community festivals, such as Creekfest, Te Rā o te Raukura and Ōtara market.
The heart checks also provided health education to the whole whānau, who are encouraged to accompany their partner, dad, or koro through the process.
The heart-shaped koru, symbolises the ngākau and mauri woven together.
The programme now
The One Heart Many Lives kaupapa has been passed back to health providers, whānau ora collectives and communities to lead.
One Heart Many Lives brand and resources
The brand for One Heart Many Lives developed over many years. It's steeped in symbolism drawn from Te Ao Māori
(Background music is from the album Te Kū Te Whē by Hirini Melbourne and Richard Nunns, courtesy of Rattle Records(external link).) Listen to Bill Kaua, PHARMAC's kaumātua, talking about the symbolism of the tohu and koru. [MP3, 4 MB] [MP3, 4 MB]
One Heart Many Lives on Facebook(external link)
There are many resources available on the Facebook page that can be shared. We are no longer monitoring the page.
One Heart Many Lives brand guidelines [PDF, 1.2 MB]
One Heart Many Lives video playlist on YouTube(external link)