Striving for te Tiriti o Waitangi excellence
Te Tiriti o Waitangi sets the enduring foundation for Te Pātaka Whaioranga – Pharmac's commitment to achieving the best health outcomes for Māori.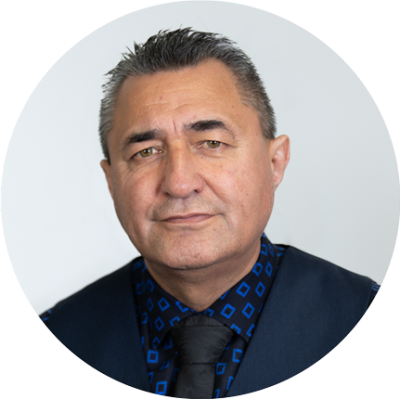 "We have made a strong commitment to te Tiriti o Waitangi and are pleased with what we have achieved," says Kaituruki Māori Director Trevor Simpson, "but there is still more to be done."
The independent review into Te Pātaka Whaioranga highlighted that we need a stronger Māori voice in our work and better ways to incorporate mātauranga Māori.
"We recognise the importance of working in partnership with iwi Māori in improving health equity and medicine accessibility for Māori communities. We are committed to upholding te Tiriti across all that we do and evolving our mahi to embody te ao Māori," says Trevor.
Addressing health disparities through a new Māori directorate
As part of this work, Te Pātaka Whaioranga has created a Māori directorate to better address health disparities for the Māori communities we serve.
This important mahi is being led by our new Kaituruki Māori Director – Trevor Simpson, who was previously Chief Advisor Māori.
"I'm excited about our new directorate. It is still being finalised but our mahi is about collaborating with the health sector to develop strategies that enable better medicine access and tackle health inequities for whānau, hapū, and iwi," says Trevor.
Te Rōpū Māori provides advice and guidance
Te Pātaka Whaioranga has also established Te Rōpū Māori, an external group of Māori experts nominated by key stakeholder groups, including Māori doctors, rongoā practitioners, Whānau Ora kaimahi, pharmacists and nurses.
"Individually and as a collective, they bring immense mana and a raft of experience and knowledge to the table," says Trevor.
The role of Te Rōpū is being discussed through the development of a partnership framework and includes supporting Te Pātaka Whaioranga to build its capability in te ao Māori and enhance how it gives effect to te Tiriti.
"The framework will be used for transformation and development from a tangata whenua and tangata tiriti perspective," says Trevor. "It will be used to strengthen Te Rautaki o te Whaioranga Strategy – our key pathway for giving effect to te Tiriti."
"This is an exciting development for Te Pātaka Whaioranga, as part of better working with, and delivering for, Māori through our work," says Trevor.
Building kaimahi capability
Te Pātaka Whaioranga is also working to elevate our focus on te Tiriti and te ao Māori by building kaimahi capability.
Earlier this year Associate Professor Heather Came visited us to train our people leaders on eliminating institutional racism in the health and disability system. This was followed by all kaimahi taking part in the Wall Walk, an interactive workshop designed to raise collective awareness of key events in the history of New Zealand's bicultural relations.
"It is critical to have a clear and shared understanding of what te Tiriti means and how it applies to our work," explains Trevor.
"Improving individual and collective cultural capability is important learning. This mahi helps us give effect to te Tiriti and be true to our value of kaitiakitanga."
Applying te Tiriti o Waitangi to our processes
Te Pātaka Whaioranga has already taken steps to further improve how we consider te Tiriti in our health technology assessments. This means looking at what we do now, how this works for us and others, and what best practice could look like in the future.
"It's a steep learning curve and we are still climbing, but the appetite from Te Pātaka Whaioranga to step back, reflect on what we do, and collaboratively consider how we can truly bring te Tiriti and equity considerations across all of our work has been heartening and impressive," says Trevor.