A new way to tackle medicine inequity
This year, and for the first time, Pharmac applied equity-based funding criteria to two new diabetes medicines – empagliflozin and dulaglutide.
The mortality rate for Māori with type 2 diabetes is seven times higher than non-Māori, and it's predicted that one in four Pacific peoples will have the disease within 20 years. This is why we specifically named Māori and Pacific peoples in Special Authority criteria – something we'd never done before but a precedent we're excited to follow.
"We know that some New Zealanders are not achieving the best health outcomes from medicines funded by Pharmac. This is not acceptable, which is why we need to do more – both ourselves and the wider health system."
Trevor Simpson, Chief Māori Advisor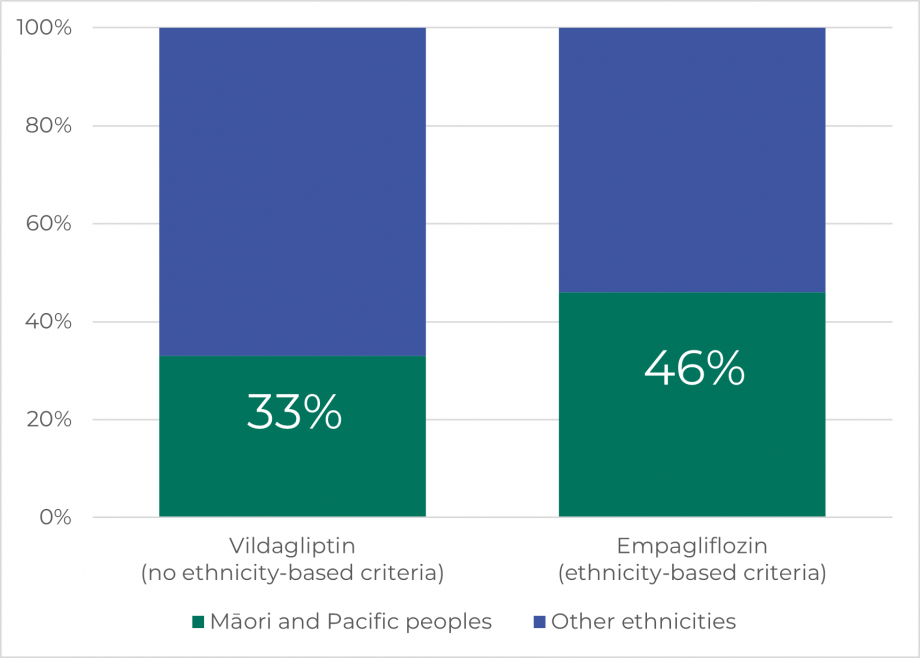 "Introducing equity-based funding criteria for population sub-groups – in this case Māori and Pacific peoples – is one lever we can pull to influence the health and disability sector. It was an intentional move to make it easier for these population groups, who are at high risk of complications of type 2 diabetes, to access medicines that can lead to better health outcomes," says Trevor.
As of 7 November 2021, there have been almost 44,000 approved Special Authority applications for empagliflozin (with and without metformin) and dulaglutide. Of these applications, nearly half (47 percent) have ticked the Māori or Pacific criteria. Compare this to the uptake with vildagliptin (a medicine funded for type 2 diabetes without Special Authority criteria), where only a third of people picking up a script for vildagliptin are Māori or Pacific.
Reaching the people who need the treatment
To help get the message out to the people it affects, we ran a three-month awareness campaign aimed at Māori and Pacific peoples about the equity-based funding criteria.
"We wanted to develop a clearer understanding of how to further connect with Māori and Pacific peoples about medicines, so we teamed up with Whare PR, a Māori PR agency that specialises in iwi communications, to create and run the campaign," says Sarah.
The theme of the campaign was 'You are a Priority'. Four well-known, respected, and relatable Māori and Pacific personalities who either live with type 2 diabetes or have whānau members who have it were the face of the campaign: Kaumātua Phil Merritt, rugby league star Adam Blair, entrepreneur Makaia Carr, and playwright and film-maker Aroha Awarau.
"We used a broad range of whānau to connect with multiple demographics to ensure the campaign reached as many people as possible and was genuine," says Sarah.
Following the precedent for cardiovascular disease
We are looking at where equity-based criteria could be used to tackle other medicine inequities.
In August, we decided to fund rosuvastatin for people with high cholesterol, a medicine with substantial health benefits for around 75,000 New Zealanders at high-risk of cardiovascular disease.
We have followed the precedent set by the diabetes medicines and named Māori and Pacific peoples within the funding criteria. This decision will enable an additional 11,500 Māori and Pacific peoples, over five years, to access this medicine – people who may not have otherwise gained access through the high-risk clinical criteria alone.
"There are lots of structural issues in the health and disability sector that contribute to inequities in access to healthcare for Māori and Pacific peoples, which we cannot address by ourselves – we have to understand the different roles and how, together, we can work towards greater equity of health outcomes," says Trevor.