Influenza vaccinations for 2020
There will be 1.768 million doses of influenza vaccine available this flu season, a 30% (400,000 doses) increase on the number of doses available in 2019.
Changes to the vaccination programme for COVID-19
Influenza immunisation normally starts on 1 April and the flu season normally starts around late May.
The Ministry of Health brought the start date forward to 16 March this year. They did this for two reasons:
To give early protection to those most at risk
To reduce the workload on the health sector during the anticipated COVID-19 pandemic.
Vaccine distribution
Delivery of the influenza vaccine was scheduled for a 1 April start date. It was recognised that bringing forward the vaccination start date could put pressure on early supplies.
When the funded influenza vaccine programme began on 16 March 2020, just under 900,000 influenza vaccines were available in New Zealand (out of the 1.768 million planned).
As at 3 May 2020, 1.4 million doses had been distributed. This is more than in any previous year. As the graph below demonstrates, distribution has happened earlier and faster than in previous years.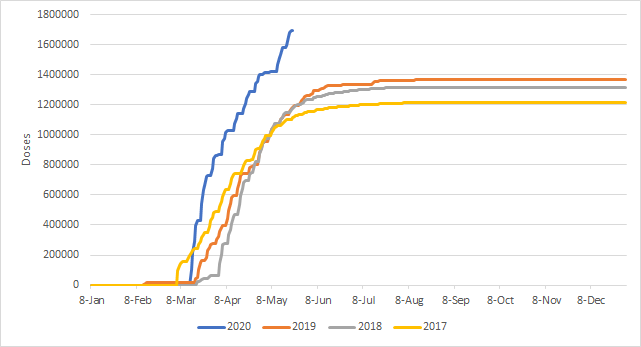 Further information
Find more detailed information on the influenza season vaccination programme:
Additional vaccines secured
The Ministry of Health and PHARMAC secured some additional Northern Hemisphere vaccine stock. The Ministry of Health is co-ordinating the distribution of the influenza vaccine.
Will I get my vaccination?
Vaccination of eligible people and essential workers was prioritised until 28 April 2020. From 28 April, vaccination opened up to everybody.
We expect that there will be very high demand for flu vaccine this year. We encourage everyone to talk to their health professional about vaccination and check ahead of time when they will have vaccine available for you.
Stock may start to run low at individual pharmacies or medical centres if there is high demand.
Who to contact
If you want to get vaccinated, talk to your doctor or pharmacist.