Warfarin (Coumadin): New look
Pharmacy packaging for Coumadin brand warfarin is changing.
Packaging change
We were alerted to some concerns about this packaging change. Pictures of some warfarin bottles in the Australian market were being shared among pharmacists. Those containers had less obvious distinctions between strengths.
Viatris, the supplier, has assured the Pharmacy Guild and Pharmac that the warfarin entering the New Zealand market is packaged with obvious differences between the strengths. The new packaging is pictured.
While the bottles are all the same colour, each label is a different colour and the strength is shown in large lettering.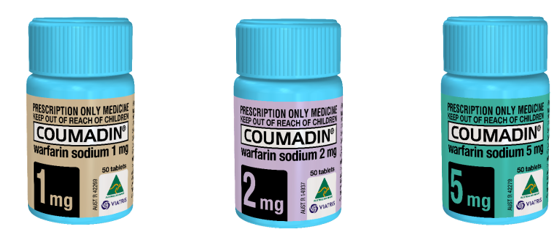 Medsafe decides packaging requirements
Medsafe is the agency that approves packaging for medicines in New Zealand. They are responsible for ensuring medicines are safe, suitable and effective, and meet New Zealand standards – including packaging requirements.
If you have questions about the packaging of any medicine, contact Medsafe(external link)