Cilazapril brand change
Cilazapril is used to treat a number of conditions including high blood pressure, heart failure and diabetic kidney disease. It is also used in people who have previously had a heart attack.
What changed?
The funded brand of cilazapril changed from Apo-Cilazapril to the Zapril brand.
When did the change happen?
These tablets come in two different strengths – 2.5 mg and 5 mg.
From 1 September 2019, the Zapril brand became fully funded.
From 1 February 2020, Zapril became the only brand of cilazapril to be fully funded.
Supply only guaranteed until 2022
While cilazapril is a trusted and effective medicine, it's hardly prescribed overseas. A lack of manfacturers making the active ingredient, could lead to supply issues. We urge prescribers to consider prescribing other funded ACE inhibitors.
Zapril works the same as other brands
Zapril has the same active ingredient as other brands of cilazapril and is delivered in the body the same way. This means it will have the same effect as other brands.
Zapril has been thoroughly evaluated by Medsafe to ensure it works the same as other brands.
Zapril comes in a 90 tablet bottle.
Your Zapril will look very similar to the Apo-Cilazapril brand.
There's more information about medicines and changes to medicines on PHARMAC's website:
Read more about the benefits of generic medicines.
Your new brand of cilazapril looks similar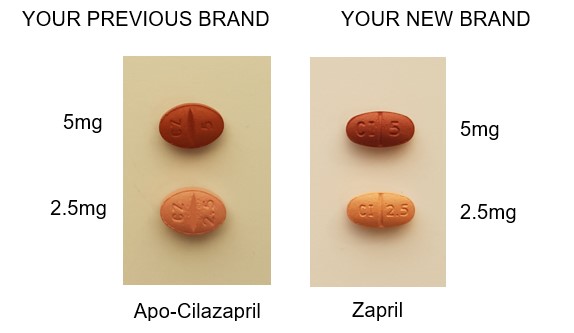 Find out more
If you have any questions or concerns about changing brands, talk with your doctor, nurse or pharmacist. You can also get more information from us at enquiry@pharmac.govt.nz or 0800 660 050.