Year in Review: Preventing the spread of diseases in our communities
Ensuring people have access to vaccines for diseases like influenza, mumps, measles and rubella (MMR) and meningococcal, is how we help prevent the spread of illness in our communities.
"We know that reducing the spread of disease is important to New Zealanders, and it's important to us too. It's great when more people get vaccinated, especially the most vulnerable in our communities," says Dr Pete Murray, PHARMAC deputy medical director.
In 2019/20, we widened access to the meningococcal ACWY vaccine for an estimated 35,000 people aged between 13 and 25 who live in boarding school hostels, tertiary education halls of residence, military barracks and prisons. Our clinical experts told us that teenagers and young adults in close living situations are some of the populations at highest risk of this potentially deadly disease.
Despite the COVID-19 lockdown and the supply chain issues overseas, a record 2.1 million doses of flu vaccine were made available to New Zealanders for eligible patients and private purchase. The funded doses were for people aged 65 and over, pregnant women, those with certain chronic conditions, and young children with a history of severe respiratory illness.
This record number of flu vaccines was made possible by PHARMAC and the Ministry of Health working closely with suppliers, distributors and vaccinators.
In 2020, for the first time, trained pharmacists across New Zealand could give the MMR vaccine. This makes it easier for people to get the vaccine because they can get it for free from either their pharmacy or doctor. This change also supports the Ministry of Health's planned measles catch-up programme for 15-to 30-year-olds.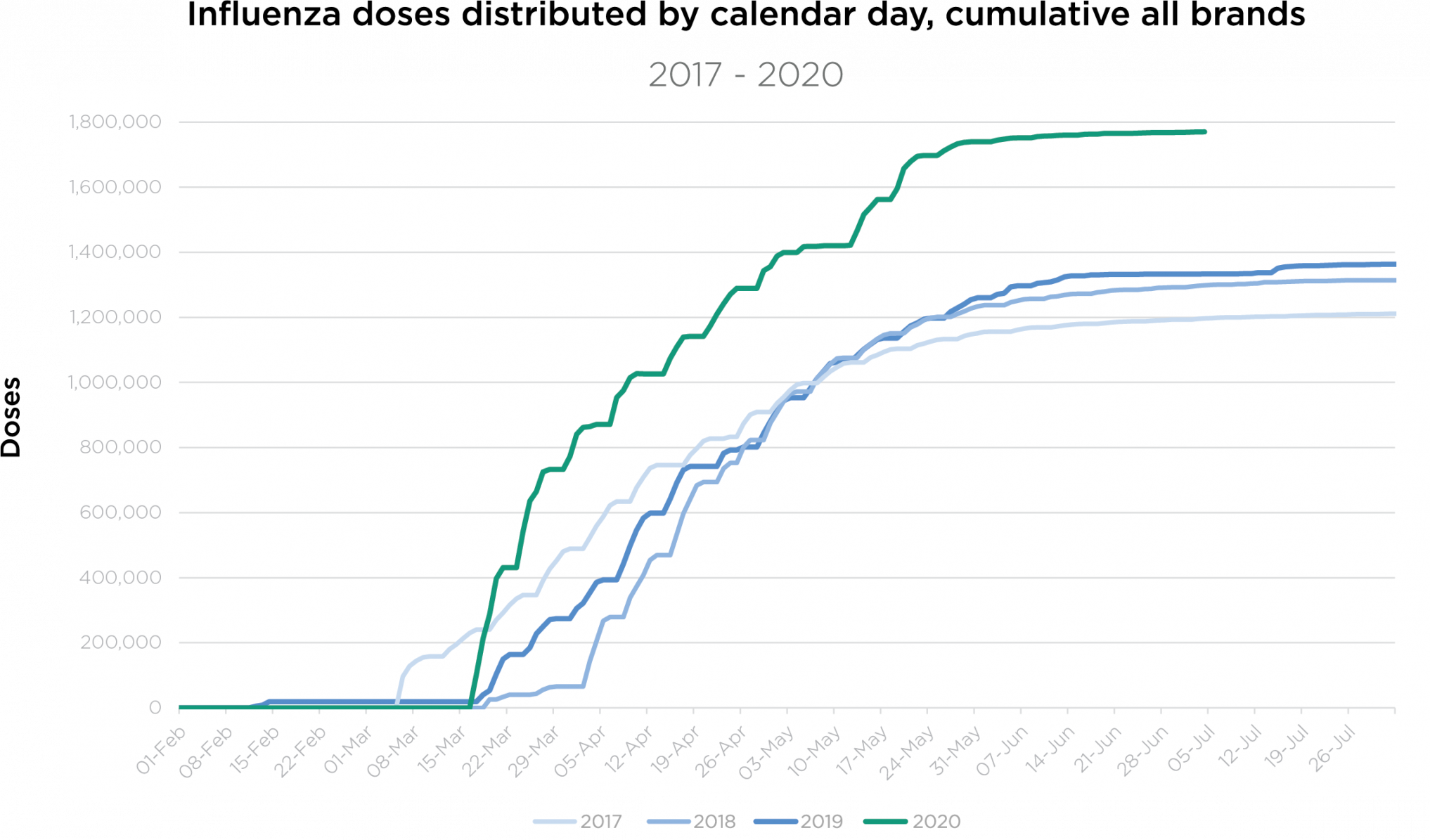 | Date | 2020 | 2019 | 2018 | 2017 |
| --- | --- | --- | --- | --- |
| 08-Jan | 0 | 0 | 0 | 0 |
| 09-Jan | 0 | 0 | 0 | 0 |
| 10-Jan | 0 | 0 | 0 | 0 |
| 11-Jan | 0 | 0 | 0 | 0 |
| 12-Jan | 0 | 0 | 0 | 0 |
| 13-Jan | 0 | 0 | 0 | 0 |
| 14-Jan | 0 | 0 | 0 | 0 |
| 15-Jan | 0 | 0 | 0 | 0 |
| 16-Jan | 0 | 0 | 0 | 0 |
| 17-Jan | 0 | 0 | 0 | 0 |
| 18-Jan | 0 | 0 | 0 | 0 |
| 19-Jan | 0 | 0 | 0 | 0 |
| 20-Jan | 0 | 0 | 0 | 0 |
| 21-Jan | 0 | 0 | 0 | 0 |
| 22-Jan | 0 | 0 | 0 | 0 |
| 23-Jan | 0 | 0 | 0 | 0 |
| 24-Jan | 0 | 0 | 0 | 0 |
| 25-Jan | 0 | 0 | 0 | 0 |
| 26-Jan | 0 | 0 | 0 | 0 |
| 27-Jan | 0 | 0 | 0 | 0 |
| 28-Jan | 0 | 0 | 0 | 0 |
| 29-Jan | 0 | 0 | 0 | 0 |
| 30-Jan | 0 | 0 | 0 | 0 |
| 31-Jan | 0 | 0 | 0 | 0 |
| 01-Feb | 0 | 0 | 0 | 0 |
| 02-Feb | 0 | 0 | 0 | 0 |
| 03-Feb | 0 | 0 | 0 | 0 |
| 04-Feb | 0 | 0 | 0 | 0 |
| 05-Feb | 0 | 0 | 0 | 0 |
| 06-Feb | 0 | 0 | 0 | 0 |
| 07-Feb | 0 | 0 | 0 | 0 |
| 08-Feb | 0 | 0 | 0 | 0 |
| 09-Feb | 0 | 0 | 0 | 0 |
| 10-Feb | 0 | 0 | 0 | 0 |
| 11-Feb | 0 | 0 | 0 | 0 |
| 12-Feb | 0 | 4,970 | 0 | 0 |
| 13-Feb | 0 | 8,670 | 0 | 0 |
| 14-Feb | 0 | 19,360 | 0 | 0 |
| 15-Feb | 0 | 19,380 | 0 | 0 |
| 16-Feb | 0 | 19,380 | 0 | 0 |
| 17-Feb | 0 | 19,380 | 0 | 0 |
| 18-Feb | 0 | 19,380 | 0 | 0 |
| 19-Feb | 0 | 19,380 | 0 | 0 |
| 20-Feb | 0 | 19,380 | 0 | 0 |
| 21-Feb | 0 | 19,380 | 0 | 0 |
| 22-Feb | 0 | 19,380 | 0 | 0 |
| 23-Feb | 0 | 19,380 | 0 | 0 |
| 24-Feb | 0 | 19,380 | 0 | 0 |
| 25-Feb | 0 | 19,380 | 0 | 0 |
| 26-Feb | 0 | 19,380 | 0 | 0 |
| 27-Feb | 0 | 19,380 | 0 | 0 |
| 28-Feb | 0 | 19,380 | 0 | 0 |
| 01-Mar | 0 | 19,380 | 0 | |
| 02-Mar | 0 | 19,380 | 0 | |
| 03-Mar | 0 | 19,380 | 0 | 80 |
| 04-Mar | 0 | 19,380 | 0 | 80 |
| 05-Mar | 0 | 19,380 | 0 | 80 |
| 06-Mar | 0 | 19,380 | 0 | 96,470 |
| 07-Mar | 0 | 19,380 | 0 | 128,210 |
| 08-Mar | 0 | 19,380 | 0 | 144,430 |
| 09-Mar | 0 | 19,380 | 0 | 155,420 |
| 10-Mar | 0 | 19,380 | 0 | 158,530 |
| 11-Mar | 0 | 19,380 | 0 | 158,530 |
| 12-Mar | 0 | 19,380 | 0 | 158,530 |
| 13-Mar | 0 | 19,380 | 0 | 180,550 |
| 14-Mar | 0 | 19,380 | 0 | 194,650 |
| 15-Mar | 0 | 19,380 | 0 | 213,510 |
| 16-Mar | 103,370 | 19,380 | 0 | 230,320 |
| 17-Mar | 214,060 | 19,380 | 0 | 240,480 |
| 18-Mar | 287,380 | 40,530 | 0 | 240,480 |
| 19-Mar | 397,440 | 53,170 | 26,060 | 240,480 |
| 20-Mar | 430,760 | 103,740 | 26,060 | 270,500 |
| 21-Mar | 430,760 | 149,720 | 33,690 | 292,210 |
| 22-Mar | 430,760 | 164,050 | 40,130 | 316,570 |
| 23-Mar | 544,340 | 164,050 | 40,670 | 335,670 |
| 24-Mar | 635,620 | 164,050 | 40,670 | 346,610 |
| 25-Mar | 664,750 | 184,780 | 40,670 | 346,610 |
| 26-Mar | 725,130 | 227,490 | 43,530 | 346,610 |
| 27-Mar | 732,490 | 249,800 | 55,440 | 390,865 |
| 28-Mar | 732,490 | 271,180 | 63,195 | 427,010 |
| 29-Mar | 732,490 | 274,420 | 65,910 | 452,020 |
| 30-Mar | 772,850 | 274,420 | 65,910 | 480,670 |
| 31-Mar | 840,580 | 274,420 | 65,910 | 489,045 |
| 01-Apr | 862,230 | 305,710 | 65,910 | 489,045 |
| 02-Apr | 864,020 | 321,500 | 65,910 | 489,045 |
| 03-Apr | 871,496 | 353,720 | 143,670 | 523,270 |
| 04-Apr | 871,496 | 385,720 | 205,220 | 559,455 |
| 05-Apr | 871,496 | 393,850 | 267,310 | 588,010 |
| 06-Apr | 953,998 | 393,850 | 278,750 | 621,922 |
| 07-Apr | 975,084 | 393,850 | 278,750 | 634,457 |
| 08-Apr | 1,014,981 | 442,790 | 278,750 | 634,457 |
| 09-Apr | 1,026,739 | 498,320 | 338,175 | 634,457 |
| 10-Apr | 1,025,926 | 546,180 | 373,220 | 676,837 |
| 11-Apr | 1,025,926 | 583,280 | 406,980 | 708,032 |
| 12-Apr | 1,025,926 | 598,210 | 453,860 | 736,702 |
| 13-Apr | 1,025,926 | 598,210 | 469,480 | 745,532 |
| 14-Apr | 1,073,979 | 598,210 | 469,480 | 745,532 |
| 15-Apr | 1,109,371 | 641,593 | 469,480 | 745,532 |
| 16-Apr | 1,139,769 | 692,541 | 533,980 | 745,532 |
| 17-Apr | 1,141,739 | 731,354 | 596,670 | 745,532 |
| 18-Apr | 1,141,739 | 742,388 | 640,475 | 776,462 |
| 19-Apr | 1,141,739 | 742,388 | 684,245 | 796,922 |
| 20-Apr | 1,173,190 | 742,388 | 694,005 | 819,760 |
| 21-Apr | 1,209,964 | 742,388 | 694,005 | 827,880 |
| 22-Apr | 1,241,634 | 742,388 | 694,005 | 827,880 |
| 23-Apr | 1,270,706 | 782,872 | 735,684 | 827,880 |
| 24-Apr | 1,289,542 | 792,499 | 752,529 | 833,305 |
| 25-Apr | 1,289,542 | 792,499 | 752,529 | 833,305 |
| 26-Apr | 1,289,542 | 801,335 | 801,073 | 873,475 |
| 27-Apr | 1,289,542 | 801,335 | 823,338 | 900,770 |
| 28-Apr | 1,343,725 | 801,335 | 823,338 | 909,218 |
| 29-Apr | 1,355,807 | 843,765 | 823,338 | 909,218 |
| 30-Apr | 1,388,343 | 880,508 | 875,047 | 909,218 |
| 01-May | 1,399,093 | 914,008 | 908,880 | 936,261 |
| 02-May | 1,399,093 | 943,519 | 941,721 | 954,483 |
| 03-May | 1,399,093 | 953,084 | 965,254 | 976,512 |
| 04-May | 1,417,745 | 953,084 | 972,377 | 993,412 |
| 05-May | 1,418,115 | 953,084 | 972,377 | 998,142 |
| 06-May | 1,418,115 | 981,680 | 972,377 | 998,142 |
| 07-May | 1,419,671 | 1,011,812 | 1,012,956 | 998,142 |
| 08-May | 1,419,671 | 1,035,144 | 1,035,164 | 1,017,292 |
| 09-May | 1,419,671 | 1,058,762 | 1,055,770 | 1,033,767 |
| 10-May | 1,419,666 | 1,063,192 | 1,073,594 | 1,046,577 |
| 11-May | 1,421,058 | 1,063,192 | 1,075,924 | 1,058,297 |
| 12-May | 1,466,219 | 1,063,192 | 1,075,924 | 1,061,112 |
| 13-May | 1,516,196 | 1,082,644 | 1,075,924 | 1,061,112 |
| 14-May | 1,537,986 | 1,101,766 | 1,101,493 | 1,061,112 |
| 15-May | 1,561,659 | 1,117,007 | 1,117,616 | 1,076,412 |
| 16-May | 1,561,659 | 1,131,383 | 1,133,804 | 1,084,692 |
| 17-May | 1,561,659 | 1,136,562 | 1,145,463 | 1,093,522 |
| 18-May | 1,595,305 | 1,136,562 | 1,150,871 | 1,101,477 |
| 19-May | 1,657,601 | 1,136,562 | 1,150,871 | 1,103,503 |
| 20-May | 1,678,854 | 1,156,538 | 1,150,871 | 1,103,503 |
| 21-May | 1,695,206 | 1,173,499 | 1,168,890 | 1,103,503 |
| 22-May | 1,696,944 | 1,182,902 | 1,178,674 | 1,113,888 |
| 23-May | 1,696,944 | 1,194,769 | 1,191,187 | 1,119,368 |
| 24-May | 1,696,944 | 1,197,830 | 1,198,322 | 1,125,597 |
| 25-May | 1,711,420 | 1,197,830 | 1,201,130 | 1,131,317 |
| 26-May | 1,723,015 | 1,197,830 | 1,201,130 | 1,133,597 |
| 27-May | 1,733,134 | 1,217,246 | 1,201,130 | 1,133,597 |
| 28-May | 1,737,560 | 1,228,608 | 1,210,185 | 1,133,597 |
| 29-May | 1,739,122 | 1,240,249 | 1,218,248 | 1,142,132 |
| 30-May | 1,739,122 | 1,253,646 | 1,227,377 | 1,147,567 |
| 31-May | 1,739,122 | 1,260,150 | 1,233,384 | 1,151,067 |
| 01-Jun | 1,739,122 | 1,260,150 | 1,237,177 | 1,155,090 |
| 02-Jun | 1,744,390 | 1,260,150 | 1,237,177 | 1,156,458 |
| 03-Jun | 1,747,389 | 1,270,878 | 1,237,177 | 1,156,458 |
| 04-Jun | 1,750,735 | 1,273,507 | 1,237,177 | 1,156,458 |
| 05-Jun | 1,751,875 | 1,293,815 | 1,246,166 | 1,156,458 |
| 06-Jun | 1,751,875 | 1,296,802 | 1,250,799 | 1,161,558 |
| 07-Jun | 1,751,875 | 1,296,802 | 1,255,905 | 1,165,663 |
| 08-Jun | 1,755,657 | 1,296,802 | 1,256,972 | 1,168,543 |
| 09-Jun | 1,756,767 | 1,304,834 | 1,256,972 | 1,169,153 |
| 10-Jun | 1,758,002 | 1,306,836 | 1,256,972 | 1,169,153 |
| 11-Jun | 1,759,358 | 1,308,838 | 1,263,479 | 1,169,153 |
| 12-Jun | 1,760,068 | 1,315,346 | 1,264,978 | 1,172,578 |
| 13-Jun | 1,760,068 | 1,324,220 | 1,268,173 | 1,175,053 |
| 14-Jun | 1,760,068 | 1,327,024 | 1,271,257 | 1,177,793 |
| 15-Jun | 1,761,928 | 1,327,024 | 1,272,541 | 1,179,383 |
| 16-Jun | 1,762,778 | 1,327,024 | 1,272,541 | 1,179,803 |
| 17-Jun | 1,763,090 | 1,330,147 | 1,272,541 | 1,179,803 |
| 18-Jun | 1,765,042 | 1,330,724 | 1,277,215 | 1,179,803 |
| 19-Jun | 1,765,427 | 1,331,198 | 1,279,478 | 1,182,538 |
| 20-Jun | 1,765,427 | 1,331,613 | 1,281,969 | 1,184,308 |
| 21-Jun | 1,765,427 | 1,331,658 | 1,283,887 | 1,185,628 |
| 22-Jun | 1,765,244 | 1,331,658 | 1,284,767 | 1,186,593 |
| 23-Jun | 1,766,018 | 1,331,658 | 1,284,767 | 1,187,223 |
| 24-Jun | 1,766,454 | 1,331,889 | 1,284,767 | 1,187,223 |
| 25-Jun | 1,767,300 | 1,332,367 | 1,286,742 | 1,187,223 |
| 26-Jun | 1,767,510 | 1,332,540 | 1,287,952 | 1,189,433 |
| 27-Jun | 1,767,510 | 1,332,487 | 1,290,332 | 1,190,543 |
| 28-Jun | 1,767,510 | 1,332,589 | 1,291,772 | 1,191,603 |
| 29-Jun | 1,768,520 | 1,332,589 | 1,292,182 | 1,192,788 |
| 30-Jun | 1,768,520 | 1,332,589 | 1,292,182 | 1,193,108 |
| 01-Jul | 1,768,790 | 1,332,645 | 1,292,182 | 1,193,108 |
| 02-Jul | | 1,333,002 | 1,294,182 | 1,193,108 |
| 03-Jul | | 1,333,111 | 1,296,742 | 1,195,118 |
| 04-Jul | | 1,333,360 | 1,298,422 | 1,196,888 |
| 05-Jul | | 1,333,330 | 1,299,632 | 1,197,558 |
| 06-Jul | | 1,333,330 | 1,300,432 | 1,198,938 |
| 07-Jul | | 1,333,330 | 1,300,432 | 1,199,408 |
| 08-Jul | | 1,333,600 | 1,300,432 | 1,199,408 |
| 09-Jul | | 1,333,712 | 1,301,807 | 1,199,408 |
| 10-Jul | | 1,333,888 | 1,302,157 | 1,200,853 |
| 11-Jul | | 1,334,017 | 1,303,377 | 1,201,653 |
| 12-Jul | | 1,337,427 | 1,304,497 | 1,202,098 |
| 13-Jul | | 1,337,427 | 1,308,237 | 1,202,428 |
| 14-Jul | | 1,337,427 | 1,308,237 | 1,202,983 |
| 15-Jul | | 1,351,357 | 1,308,237 | 1,202,983 |
| 16-Jul | | 1,355,243 | 1,309,177 | 1,202,983 |
| 17-Jul | | 1,356,503 | 1,309,997 | 1,204,453 |
| 18-Jul | | 1,358,013 | 1,310,652 | 1,205,013 |
| 19-Jul | | 1,358,443 | 1,311,217 | 1,205,973 |
| 20-Jul | | 1,358,443 | 1,311,467 | 1,206,683 |
| 21-Jul | | 1,358,443 | 1,311,467 | 1,207,028 |
| 22-Jul | | 1,359,623 | 1,311,467 | 1,207,028 |
| 23-Jul | | 1,360,303 | 1,312,337 | 1,207,028 |
| 24-Jul | | 1,360,763 | 1,313,132 | 1,207,868 |
| 25-Jul | | 1,361,413 | 1,313,682 | 1,208,498 |
| 26-Jul | | 1,361,553 | 1,313,682 | 1,208,823 |
| 27-Jul | | 1,361,553 | 1,313,682 | 1,209,663 |
| 28-Jul | | 1,361,553 | 1,313,682 | 1,209,883 |
| 29-Jul | | 1,362,353 | 1,313,682 | 1,209,883 |
| 30-Jul | | 1,362,833 | 1,313,682 | 1,209,883 |
| 31-Jul | | 1,363,213 | 1,313,682 | 1,210,743 |
| 01-Aug | | 1,363,508 | 1,313,682 | 1,211,208 |
| 02-Aug | | 1,363,678 | 1,313,682 | 1,211,478 |
| 03-Aug | | 1,363,678 | 1,313,682 | 1,211,873 |
| 04-Aug | | 1,363,678 | 1,313,682 | 1,212,003 |
| 05-Aug | | 1,363,978 | 1,313,682 | 1,212,003 |
| 06-Aug | | 1,364,108 | 1,313,682 | 1,212,003 |
| 07-Aug | | 1,364,408 | 1,313,682 | 1,212,423 |
| 08-Aug | | 1,364,588 | 1,313,682 | 1,212,723 |
| 09-Aug | | 1,364,748 | 1,313,682 | 1,212,543 |
| 10-Aug | | 1,364,748 | 1,313,682 | 1,212,823 |
| 11-Aug | | 1,364,748 | 1,313,682 | 1,213,023 |
| 12-Aug | | 1,365,158 | 1,313,682 | 1,213,023 |
| 13-Aug | | 1,365,288 | 1,313,682 | 1,213,023 |
| 14-Aug | | 1,365,508 | 1,313,682 | 1,213,373 |
| 15-Aug | | 1,365,718 | 1,313,682 | 1,213,673 |
| 16-Aug | | 1,365,798 | 1,313,682 | 1,213,883 |
| 17-Aug | | 1,365,798 | 1,313,682 | 1,214,023 |
| 18-Aug | | 1,365,798 | 1,313,682 | 1,214,243 |
| 19-Aug | | 1,365,988 | 1,313,682 | 1,214,243 |
| 20-Aug | | 1,366,278 | 1,313,682 | 1,214,243 |
| 21-Aug | | 1,366,668 | 1,313,682 | 1,214,493 |
| 22-Aug | | 1,366,728 | 1,313,682 | 1,214,873 |
| 23-Aug | | 1,366,928 | 1,313,682 | 1,215,093 |
| 24-Aug | | 1,366,928 | 1,313,682 | 1,215,233 |
| 25-Aug | | 1,366,928 | 1,313,682 | 1,215,283 |
| 26-Aug | | 1,367,078 | 1,313,682 | 1,215,283 |
| 27-Aug | | 1,367,308 | 1,313,682 | 1,215,283 |
| 28-Aug | | 1,367,438 | 1,313,682 | 1,215,493 |
| 29-Aug | | 1,367,528 | 1,313,682 | 1,215,773 |
| 30-Aug | | 1,367,578 | 1,313,682 | 1,215,923 |
| 31-Aug | | 1,367,578 | 1,313,682 | 1,216,043 |
| 01-Sep | | 1,367,578 | 1,313,682 | 1,216,103 |
| 02-Sep | | 1,367,828 | 1,313,682 | 1,216,103 |
| 03-Sep | | 1,367,938 | 1,313,682 | 1,216,103 |
| 04-Sep | | 1,368,088 | 1,313,682 | 1,216,233 |
| 05-Sep | | 1,368,203 | 1,313,682 | 1,216,423 |
| 06-Sep | | 1,368,393 | 1,313,682 | 1,216,543 |
| 07-Sep | | 1,368,393 | 1,313,682 | 1,216,743 |
| 08-Sep | | 1,368,393 | 1,313,682 | 1,216,803 |
| 09-Sep | | 1,368,488 | 1,313,682 | 1,216,803 |
| 10-Sep | | 1,368,598 | 1,313,682 | 1,216,803 |
| 11-Sep | | 1,368,638 | 1,313,682 | 1,216,803 |
| 12-Sep | | 1,368,678 | 1,313,682 | 1,216,803 |
| 13-Sep | | 1,368,688 | 1,313,682 | 1,216,803 |
| 14-Sep | | 1,368,688 | 1,313,682 | 1,216,803 |
| 15-Sep | | 1,368,688 | 1,313,682 | 1,216,803 |
| 16-Sep | | 1,368,808 | 1,313,682 | 1,216,803 |
| 17-Sep | | 1,368,878 | 1,313,682 | 1,216,803 |
| 18-Sep | | 1,368,958 | 1,313,682 | 1,216,803 |
| 19-Sep | | 1,368,988 | 1,313,682 | 1,216,803 |
| 20-Sep | | 1,369,028 | 1,313,682 | 1,216,803 |
| 21-Sep | | 1,369,028 | 1,313,682 | 1,216,803 |
| 22-Sep | | 1,369,028 | 1,313,682 | 1,216,803 |
| 23-Sep | | 1,369,098 | 1,313,682 | 1,216,803 |
| 24-Sep | | 1,369,238 | 1,313,682 | 1,216,803 |
| 25-Sep | | 1,369,288 | 1,313,682 | 1,216,803 |
| 26-Sep | | 1,369,388 | 1,313,682 | 1,216,803 |
| 27-Sep | | 1,369,398 | 1,313,682 | 1,216,803 |
| 28-Sep | | 1,369,398 | 1,313,682 | 1,216,803 |
| 29-Sep | | 1,369,398 | 1,313,682 | 1,216,803 |
| 30-Sep | | 1,369,478 | 1,313,682 | 1,216,803 |
| 01-Oct | | 1,369,548 | 1,313,682 | 1,216,803 |
| 02-Oct | | 1,369,953 | 1,313,682 | 1,216,803 |
| 03-Oct | | 1,370,003 | 1,313,682 | 1,216,803 |
| 04-Oct | | 1,370,013 | 1,313,682 | 1,216,803 |
| 05-Oct | | 1,370,013 | 1,313,682 | 1,216,803 |
| 06-Oct | | 1,370,013 | 1,313,682 | 1,216,803 |
| 07-Oct | | 1,370,053 | 1,313,682 | 1,216,803 |
| 08-Oct | | 1,370,103 | 1,313,682 | 1,216,803 |
| 09-Oct | | 1,370,188 | 1,313,682 | 1,216,803 |
| 10-Oct | | 1,370,248 | 1,313,682 | 1,216,803 |
| 11-Oct | | 1,370,258 | 1,313,682 | 1,216,803 |
| 12-Oct | | 1,370,258 | 1,313,682 | 1,216,803 |
| 13-Oct | | 1,370,258 | 1,313,682 | 1,216,803 |
| 14-Oct | | 1,370,328 | 1,313,682 | 1,216,803 |
| 15-Oct | | 1,370,338 | 1,313,682 | 1,216,803 |
| 16-Oct | | 1,370,358 | 1,313,682 | 1,216,803 |
| 17-Oct | | 1,370,408 | 1,313,682 | 1,216,803 |
| 18-Oct | | 1,370,418 | 1,313,682 | 1,216,803 |
| 19-Oct | | 1,370,418 | 1,313,682 | 1,216,803 |
| 20-Oct | | 1,370,418 | 1,313,682 | 1,216,803 |
| 21-Oct | | 1,370,498 | 1,313,682 | 1,216,803 |
| 22-Oct | | 1,370,558 | 1,313,682 | 1,216,803 |
| 23-Oct | | 1,370,628 | 1,313,682 | 1,216,803 |
| 24-Oct | | 1,370,688 | 1,313,682 | 1,216,803 |
| 25-Oct | | 1,370,708 | 1,313,682 | 1,216,803 |
| 26-Oct | | 1,370,708 | 1,313,682 | 1,216,803 |
| 27-Oct | | 1,370,708 | 1,313,682 | 1,216,803 |
| 28-Oct | | 1,370,708 | 1,313,682 | 1,216,803 |
| 29-Oct | | 1,370,748 | 1,313,682 | 1,216,803 |
| 30-Oct | | 1,370,758 | 1,313,682 | 1,216,803 |
| 31-Oct | | 1,370,838 | 1,313,682 | 1,216,803 |
| 01-Nov | | 1,370,838 | 1,313,682 | 1,216,803 |
| 02-Nov | | 1,370,838 | 1,313,682 | 1,216,803 |
| 03-Nov | | 1,370,838 | 1,313,682 | 1,216,803 |
| 04-Nov | | 1,370,908 | 1,313,682 | 1,216,803 |
| 05-Nov | | 1,370,918 | 1,313,682 | 1,216,803 |
| 06-Nov | | 1,370,928 | 1,313,682 | 1,216,803 |
| 07-Nov | | 1,370,938 | 1,313,682 | 1,216,803 |
| 08-Nov | | 1,370,938 | 1,313,682 | 1,216,803 |
| 09-Nov | | 1,370,938 | 1,313,682 | 1,216,803 |
| 10-Nov | | 1,370,938 | 1,313,682 | 1,216,803 |
| 11-Nov | | 1,371,028 | 1,313,682 | 1,216,803 |
| 12-Nov | | 1,371,028 | 1,313,682 | 1,216,803 |
| 13-Nov | | 1,371,028 | 1,313,682 | 1,216,803 |
| 14-Nov | | 1,371,028 | 1,313,682 | 1,216,803 |
| 15-Nov | | 1,371,028 | 1,313,682 | 1,216,803 |
| 16-Nov | | 1,371,028 | 1,313,682 | 1,216,803 |
| 17-Nov | | 1,371,028 | 1,313,682 | 1,216,803 |
| 18-Nov | | 1,371,028 | 1,313,682 | 1,216,803 |
| 19-Nov | | 1,371,028 | 1,313,682 | 1,216,803 |
| 20-Nov | | 1,371,028 | 1,313,682 | 1,216,803 |
| 21-Nov | | 1,371,028 | 1,313,682 | 1,216,803 |
| 22-Nov | | 1,371,028 | 1,313,682 | 1,216,803 |
| 23-Nov | | 1,371,028 | 1,313,682 | 1,216,803 |
| 24-Nov | | 1,371,028 | 1,313,682 | 1,216,803 |
| 25-Nov | | 1,371,028 | 1,313,682 | 1,216,803 |
| 26-Nov | | 1,371,028 | 1,313,682 | 1,216,803 |
| 27-Nov | | 1,371,028 | 1,313,682 | 1,216,803 |
| 28-Nov | | 1,371,028 | 1,313,682 | 1,216,803 |
| 29-Nov | | 1,371,028 | 1,313,682 | 1,216,803 |
| 30-Nov | | 1,371,028 | 1,313,682 | 1,216,803 |
| 01-Dec | | 1,371,028 | 1,313,682 | 1,216,803 |
| 02-Dec | | 1,371,028 | 1,313,682 | 1,216,803 |
| 03-Dec | | 1,371,028 | 1,313,682 | 1,216,803 |
| 04-Dec | | 1,371,028 | 1,313,682 | 1,216,803 |
| 05-Dec | | 1,371,028 | 1,313,682 | 1,216,803 |
| 06-Dec | | 1,371,028 | 1,313,682 | 1,216,803 |
| 07-Dec | | 1,371,028 | 1,313,682 | 1,216,803 |
| 08-Dec | | 1,371,028 | 1,313,682 | 1,216,803 |
| 09-Dec | | 1,371,028 | 1,313,682 | 1,216,803 |
| 10-Dec | | 1,371,028 | 1,313,682 | 1,216,803 |
| 11-Dec | | 1,371,028 | 1,313,682 | 1,216,803 |
| 12-Dec | | 1,371,028 | 1,313,682 | 1,216,803 |
| 13-Dec | | 1,371,028 | 1,313,682 | 1,216,803 |
| 14-Dec | | 1,371,028 | 1,313,682 | 1,216,803 |
| 15-Dec | | 1,371,028 | 1,313,682 | 1,216,803 |
| 16-Dec | | 1,371,028 | 1,313,682 | 1,216,803 |
| 17-Dec | | 1,371,028 | 1,313,682 | 1,216,803 |
| 18-Dec | | 1,371,028 | 1,313,682 | 1,216,803 |
| 19-Dec | | 1,371,028 | 1,313,682 | 1,216,803 |
| 20-Dec | | 1,371,028 | 1,313,682 | 1,216,803 |
| 21-Dec | | 1,371,028 | 1,313,682 | 1,216,803 |
| 22-Dec | | 1,371,028 | 1,313,682 | 1,216,803 |
| 23-Dec | | 1,371,028 | 1,313,682 | 1,216,803 |
| 24-Dec | | 1,371,028 | 1,313,682 | 1,216,803 |
| 25-Dec | | 1,371,028 | 1,313,682 | 1,216,803 |
| 26-Dec | | 1,371,028 | 1,313,682 | 1,216,803 |
| 27-Dec | | 1,371,028 | 1,313,682 | 1,216,803 |
| 28-Dec | | 1,371,028 | 1,313,682 | 1,216,803 |
| 29-Dec | | 1,371,028 | 1,313,682 | 1,216,803 |
| 30-Dec | | 1,371,028 | 1,313,682 | 1,216,803 |