Year in Review: Factors for Consideration
To get the best health outcomes for New Zealanders from within our available funding, we use a comprehensive decision-making framework known as the Factors for Consideration.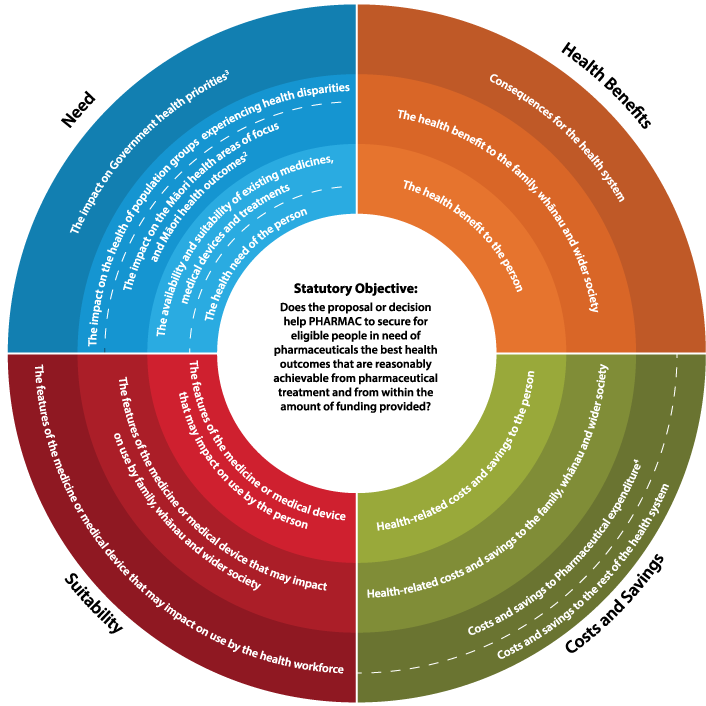 The Factors for Consideration framework has 4 segments – need, health benefits, costs and savings, and suitability.
All medicine funding applications are different, and we know some factors are more important and relevant than others depending on the circumstances. It's not a 'one size fits all' approach.
Need
To work out what the level of 'need' is, we consider the impact of the disease, condition or illness on the person, their family or whānau, wider society, and the broader New Zealand health system. Consideration of need includes the impact of a decision on those who are facing health disparities as a result of an underlying disadvantage, separately from the illness itself. These people may be characterised by ethnicity, culture, location or socioeconomic status.
Health benefit
'Health benefit' is about the potential health gain from the medicine or medical device based on evidence from clinical trials. Our health economists work out how many extra years of life a person may live, or live with reduced symptoms. A medicine may have health benefits beyond the person receiving the treatment. For example, reducing antibiotic resistance will have positive health benefits for all New Zealanders.
Costs and savings
We consider the 'costs and savings' to the person and their family, whānau and to the wider society. These include, for example, whether the treatment would reduce the cost of caring for someone. The costs and savings to the health system covers both the pharmaceutical budget and the wider health system. Funding medicines or related products can have flow-on impacts for the health system; for example, when a treatment can be given at home rather than in hospital it can free up a hospital bed for someone else.
Suitability
'Suitability' considers the non-clinical features of the medicine or related product that might impact on health outcomes. These can include features of the medicine or related product that impact on ease of use, such as whether a medicine is administered by injection or in a pill.