Year in Review: Expert clinical advice informs our decisions
More than 140 senior health practitioners from a wide range of clinical fields are involved in advising PHARMAC on what funding a medicine would mean for patients and the health system.
This is done through the Pharmacology and Therapeutics Advisory Committee (PTAC) and its 21 subcommittees. PTAC and subcommittee members have experience in reviewing medical research and are still treating patients. They are the best and brightest from around New Zealand, and sometimes internationally.
Meet Dr Giles Newton-Howes
Associate Professor | Clinical Psychiatrist, Wellington
Dr Newton-Howes has been a PTAC member since 2015 and is part of several PTAC subcommittees. When asked why he wanted to support PHARMAC's decision making, he says he believes in what PHARMAC does.
"I genuinely think that it makes a difference to lots of people, and I think PHARMAC can't do its job without good advice from lots of areas, and people who practise are one of those groups that need to be giving PHARMAC good advice.
"I think medicine is an art and a science. One of the values of academic work is that it embeds you in your science. But it's also an art, especially psychiatry. We get to know people, we get to know what they're like and then you can take that science and put it into the New Zealand context. And that provides feedback to PHARMAC that is relevant and helps them make the best decision for New Zealand," says Dr Newton-Howes.
Dr Newton-Howes is a general adult consultant psychiatrist with a sub-specialty in substance misuse psychiatry. He trained in psychiatry at Imperial College in London, and undertook five years of clinical work in Hawke's Bay before accepting a role in the Department of Psychological Medicine at the University of Otago, Wellington.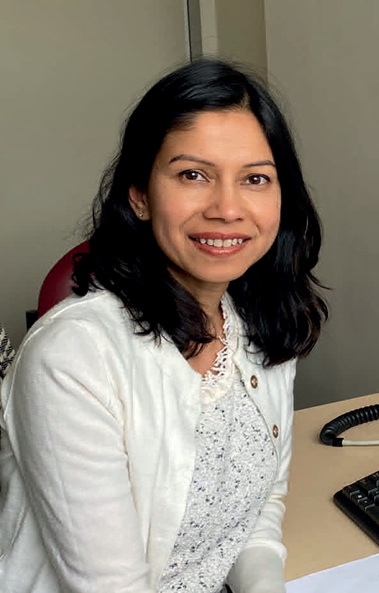 Meet Dr Rinki Murphy
Associate Professor | Specialist Diabetes Physician, Auckland
This was Dr Murphy's first year as one of our diabetes subcommittee experts. When she saw that we were looking for new members, she jumped at the opportunity to be part of PHARMAC's decision making.
"I'm acutely aware of the inequities in health outcomes for diabetes and related metabolic conditions that are apparent by ethnicity and socioeconomic status, and the stigma and self-blame related to type 2 diabetes being linked to poor lifestyle behaviour. I am keen to ensure such inequities are not perpetuated in funding decisions for diabetes.
"I am also aware of the personal toll it takes for my patients to manage type 1 diabetes and I'm keen to ensure this is considered in funding decisions for technology to assist with the management of type 1 diabetes.
"That's why I want to be part of PHARMAC's decision-making process, to provide contextual information around evidence from clinical trial data, routinely collected local data and experiences on the ground from my clinical duties to assist PHARMAC in its prioritisation of providing improved medication access for those with diabetes and related chronic metabolic diseases.
"I'm keen to provide feedback to PHARMAC about medicine funding as a key component of making sure that the right patient receives the right treatment, at the right time," says Dr Murphy.