Pacific Strategy: Stage 1 - what we learned
The work on the 2017 Pacific Responsive Strategy started with the support of Pacific members on PHARMAC's Consumer Advisory Group: David Lui, Tuiloma Lina Samu, and Key Frost.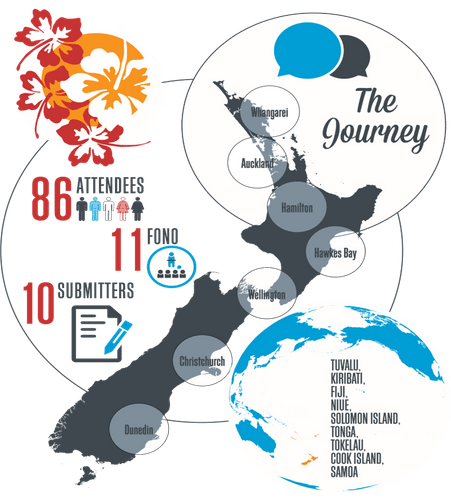 First we listened
We tested our ideas at 11 fono around the country. We visited Whangārei, Auckland, Hamilton, Hawke's Bay, Wellington, Christchurch, and Dunedin. We received feedback from over 90 people through the fono and written submissions. They came from all over the Pacific:
Cook Islands
Fiji
Kiribati
Niue
Samoa
Solomon Islands
Tokelau
Tonga
Tuvalu.
What we heard
We need Pacific representation within PHARMAC to enable cultural awareness. We need to use the data about Pacific peoples to support healthier people.
Health System
Pacific peoples have high trust in health professionals, particularly doctors
There is a lack of communication between doctors and pharmacists
Pacific peoples were keen to understand the health system
Previous experience with the health system, as well as information passed by word of mouth, influenced future behaviour of Pacific peoples
The potential for pharmacists to play a more critical role was emphasised numerous times.
Pacific community engagement
The best channel of communication varied across age, ethnicity, and geographic location.
Faith in God is a core aspect to Pacific peoples' identity.
Education is best delivered in community-based settings by those trusted in Pacific communities.
PHARMAC must build strong relationships with established community providers.
The need for authentic engagement with Pacific communities.
The level of language and understanding differed depending on whether people were born in New Zealand or not.
Return fono
Once the Pacific Responsiveness Strategy was finalised, we returned to the communities that helped us develop it.