Access equity: What it means for Pharmac
Kia ōrite te āhei atu: Te whakamārama a Pharmac
The causes of health inequities are complex, and solutions do not lie solely with the funding of medicines, or within the health system.
What does access equity look like?
Pharmac defines medicine access equity as:
The absence of avoidable, unfair or remediable differences in funded medicine access among groups of people. Those groups can be defined socially, economically, demographically, geographically, or by other means of stratification.
To achieve this, different levels of support are needed for some people to get fair access to funded medicines.
The Ministry of Health defines health equity as follows:
In Aotearoa New Zealand, people have differences in health that are not only avoidable but unfair and unjust. Equity recognises different people with different levels of advantage require different approaches and resources.
Making medicine access more equitable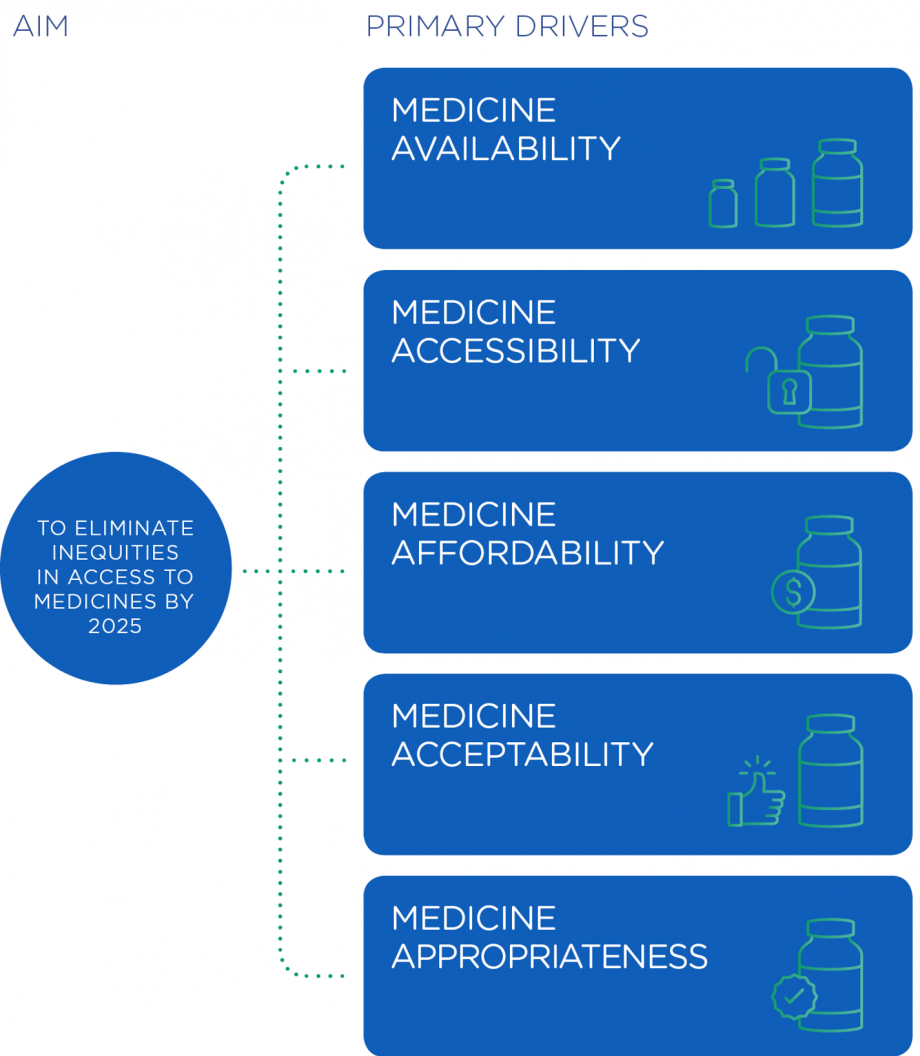 We've identified 5 drivers that can address inequities in access to medicines
Availability – how Pharmac makes and implements funding decisions so that everyone who is eligible can access funded medicines
Affordability – reducing cost barriers so that people can afford funded medicines
Accessibility– ensuring people don't face challenges getting to see a prescriber or to the pharmacy
Acceptability – the ability of health services to create trust, so patients are informed and engaged enough to accept the medicines they've been prescribed
Appropriateness – the adequacy and quality of prescribing to ensure equitable health outcomes.
Each of these have several secondary drivers that contribute to them. Pharmac cannot control all these drivers. But we can influence others to support change for equity.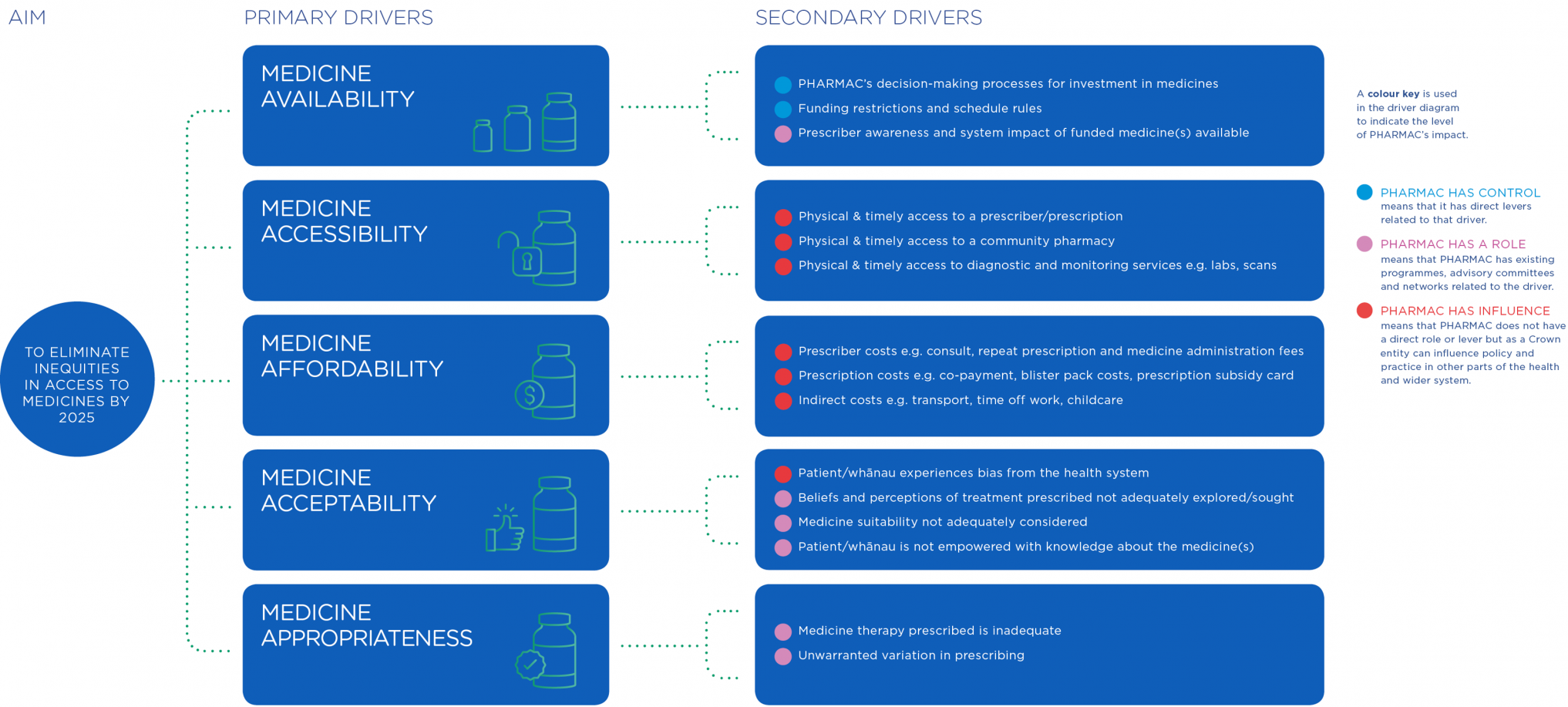 Download the drivers diagram
What Pharmac's doing
Developing our internal capability so we are a centre of excellence in equity for the sector
We've recently revised the terms of reference for our key clinical advice groups to raise equity capability expectations.
Pharmac is supporting the equity capability development of our clinical advisors. As a first step, advisors are doing a self-assessment of their equity capability.
Partnering with others in the health sector to develop programmes for equitable access and use of medicines
We're developing our relationships with Māori and Pacific Health services to explore changes we can make to support equity and make sure we're getting the right advice in on our policies and decisions.
We're taking a more strategic approach to access equity with Whānau Ora Collectives and Commissioning Agency partners and Māori health professional bodies.
Stage two of the Pacific Responsiveness Strategy includes strengthening partnerships with key Pacific health organisations.
Influencing policy and research and champion medicines access equity across the sector
We are funding Matui to deliver equity focused training materials for clinicians.
Visit He Ako Hiringa(external link)
We've updated our partnership with the Health Research Council to prioritise medicine access equity research.
Media release: Pharmac funding to support access equity research
In 2021/22 we're developing action plans to address the inequities we have highlighted in our monitoring and reporting stream. Our conditions of focus are initially gout and cardiovascular disease.
Monitoring and reporting on medicine access equity performance
We have established a new medicine access equity monitoring and outcomes framework
We have developed methodologically-sound baseline measures to understand the scale of inequities in medicine access for Māori and Pacific peoples being treated for
gout
cardiovascular disease
type 2 diabetes.
asthma
chronic obstructive pulmonary disease (COPD)
We're progressively publishing the measures.
Medicine access equity monitoring and outcomes framework
Who are our priority?
Our first priority is our Treaty partner: Māori. There's strong evidence that the health sector has work to do before Māori can experience the same level of health outcomes as the rest of Aotearoa New Zealand.
Other priority populations include:
Pacific peoples
people living in high socioeconomic deprivation
people living in rural and isolated areas
people from former refugee backgrounds.
This is not a mutually exclusive list. It is likely that the most deprived individuals (and communities) will share more than one of these characteristics.
Māori
Pharmac has centred Te Tiriti in our Strategic Direction, which states that our purpose is to uphold the principles of Te Tiriti advancing Māori health and aspirations. Te Whaioranga is our plan to deliver on our strategy.
Equity of access to medicines is one strand of meeting our commitment under Te Tiriti o Waitangi – alongside tino rangatiratanga, active protection, options, and partnership.
Pacific peoples
Pharmac's Pacific Responsiveness Strategy 2017­–2026 provides strategic direction and a framework for Pharmac to improve Pacific peoples' health. Medicine access equity is also just one part of the strategy, which also outlines how Pharmac should work with and for Pacific communities.
We have completed stage 1 and stage 2 is underway.